New City signing Sam Mewis says she's relishing the challenge of "stepping out of her comfort zone" in a bid to achieve her dreams.
The United States star and World Cup winner has made the move to Manchester in her first foray into the English game, having previously solely plied her trade in her native America.
Addressing the media for the first time since her signing, Mewis revealed she had always wanted to play abroad and hopes to accomplish her goals of Olympic and Champions League success with her new Club.
"Playing overseas was something I always wanted to do and it excites me," she said. "I think it will add some depth and experience to my game.
"City are an incredible Club and I didn't know I would get an opportunity like this so when I heard about it, my ears picked up because it is such a great place to play.
"You think about when you're done with soccer and when you look back over my career. I have always wanted to play overseas and in the Champions League. I think it's on every players' bucket list.
"It is exciting and I am really honoured that I get the chance to play over here and with new players. What really drew me was the desire to keep growing and adding new skills and depths to my game. Competing for something new is part of that.
"I want to try and make the Olympic roster. It's a really tough roster to make and something I've not done before.
"Part of me was thinking: 'How can I be the best player I can be when those roster decisions are being made?'
"It is a little scary doing something you've not done before but I hope that this will grow my game and put me in the best position to make the Olympic roster.
"Playing overseas was something I wanted to experience. I was excited to do something different and get outside my comfort zone.
"It was mutual interest and I am really fortunate and happy that it worked out because the timing came into it for me. I'm really honoured that City were interested and gave me this opportunity and I'm really looking forward to taking advantage of it.
"I have heard great things about the FA WSL from my national teammates. I am really excited for the opportunity and I think City is a cool place to get to experience this.
"Several of my teammates have played overseas in the past. You have to be in the right stage in your career and personal situation. It's such a big decision.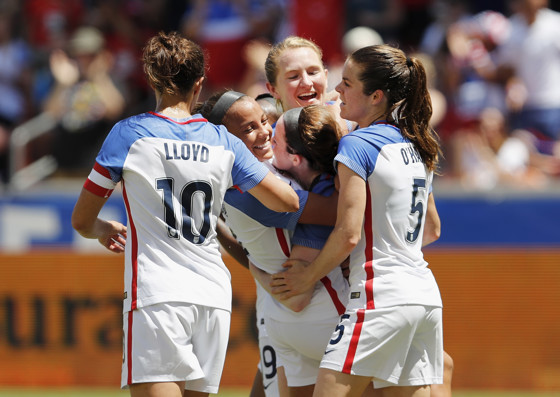 "I was talking to Becky Sauerbrunn. She is an introvert and she told me that during in her time in Norway, she made herself say yes to everything and tried to insert herself into the team and try new adventures.
"I appreciated that because she is an introvert. It reminded me that this is about more than just soccer, it is a life experience. I am going to try and say yes if the girls ask me to do anything.
"With Covid-19 happening, it's thrown a lot of different things around. I thought the FA WSL was such a good opportunity for me to develop and grow and I didn't want to pass it up.
"I have been thinking about my family. My husband is going to come and stay for a bit. The Club have taken really good care of me. We have really good protocols to keep everyone safe.
"I am really excited to be here and it's a big opportunity."
Already familiar with the majority of her new teammates, having locked horns with them on international duty, Mewis added she cannot wait to link up with the squad, vying for a place in City's "talented" midfield.
"Obviously I've played against a lot of them and a few of the girls have text me on WhatsApp, which is nice, but I've not seen them yet," she revealed.
"In my career the best thing has always been the team so I am looking forward to quarantine being over so I can meet them.
"I know a bunch of midfielders here that are just so talented. Keira Walsh being one of them and Jill Scott another.
"I remember watching Caroline Weir in the World Cup and thinking she was a great player.
"I am going to have to perform well to get out on the field. I think I can bring an attacking mindset. In America, we play an aggressive style and I know I am going to have to adapt, but that is something I can bring here.
"I feel like I'm known for being aggressive, going forward and dribbling out of midfield at speed.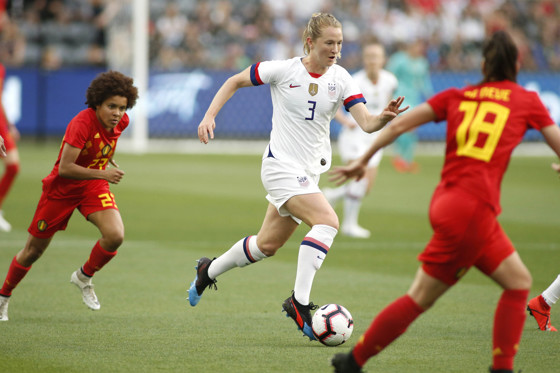 "That's a mentality I've learnt from my US club and national teams. I am hoping I can bring that attacking, aggressive mindset.
"I would like to be productive, get goals and assists and help the team put away games. I know it's going to be tough in midfield and I'm going to have to compete for playing time.
"I spoke to coach [Gareth] Taylor a couple of times before I decided to come. I thought the way he spoke about what he wanted to do here was really exciting and he seems like someone who can add depth to my game.
"We spoke about some specifics. Once I decided to come, he reached out and we spoke about what he wants to do and what my role might be.
SHOP NOW | CHECK OUT OUR PUMA 2020/21 COLLECTION
"I know the girls like him and he's been here for a long time. It's an exciting chance for me to grow and learn."
Asked of her favourite Premier League team, Mewis also hailed the attacking prowess of the men's side, replying: "I do really like City.
"I really like Kevin De Bruyne, I would try to emulate him if I could. He is a great player and watching the team is so much fun.
"I watched All or Nothing a couple of times and I really admire the way the men's team operates.
"As I got older, I started watching the Premier League. I am excited to experience that culture here in England and hopefully, I can go to a couple of games when it is safe."
CITYZENS: NEW SIGNING - WIN A SAM MEWIS SIGNED SHIRT